Because the physical and static characteristics of different fluids are different, even if the physical dynamic characteristics of the same fluid medium under different environmental conditions are slightly different, these uncertain factors (variables) will increase the difficulty of design engineers to implement on-demand fluid control. Especially in the special occasions of medical diagnostic equipment and scientific analysis instruments, such as: large flow rate under low pressure conditions, requiring "high precision" for fluid control and meeting some professional application needs of medical instruments, system design engineers should strive to "balance" "Various confusing variables to achieve the development goal of the overall system performance. Based on the system universality of in vitro diagnostic equipment (referred to as "diagnosis") and scientific analysis equipment (referred to as "analysis"), this article briefly discusses some fluid control technologies and engineering solutions.
1. Liquid handling technology and automation solutions
Liquid treatment is also called "Sampling PrepearaTIon" and "pre-analysis treatment" in diagnosis and analysis. Its essence is to quantitatively aspirate and distribute the liquid to be tested (human body fluids, such as serum samples and urine). , Complete the dilution or mixing action.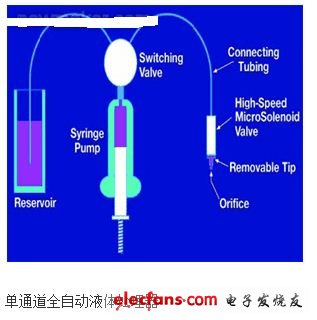 So far, the principles of liquid treatment technology are nothing more than the following three types: liquid replacement, active replacement and gas replacement. The three principles have different needs for different applications. Among them, the latter two technologies are only used by a handful of manufacturers in automation products due to factors such as patents and technological processes. "Liquid replacement" is the earliest liquid processing automation technology that has been widely used and continues to this day.
As we all know, the micro syringe pump is a typical design based on the principle of liquid replacement. It is composed of the following key parts: micro-injector; shear valve and stepper motor with integrated drive, control and communication protocol. It can be directly applied to all diagnosis and analysis equipment that requires automatic sample preparation.
Obviously, in practical applications, the above-mentioned micro-syringe pumps cannot complete the dilution and distribution of liquids independently, so another key component is needed—aspirating / sampling needle (or probe). It can be connected to a certain function port of the shear valve on the microsyringe pump through the pipeline to form a "single-channel automatic liquid processor" as shown in the figure below, and then supplemented by a reasonable "association methodology agreement" software. Can create a professional dilution / dispenser for analysis and diagnostic laboratories. In the full-automatic liquid processing technology, the front-end sampling needle is the key part, because the needle shape at the end of the sampling needle must meet the actual application requirements, such as the puncture function and the liquid level detection function (LLD). The impact of sample accuracy and whether there will be "hanging beads" and other phenomena.
However, in some high-sensitivity diagnostic methodological applications (such as chemiluminescence immunoassay with a response sensitivity above 10-9), although the steel needle has also been subjected to some special treatments (such as: Teflon coating), However, after repeated cleaning and use for a period of time, "carrying pollution", "cross-contamination" and "dilution effect" will still result in false positives and false negatives of the diagnostic results, and even all batch tests will be invalid. Therefore, the EU IVDD 97 (In Vitro Diagnostic Equipment Directive) and the US Clinical In Vitro Diagnostic Guidelines both state that disposable TIp tips (tips) should be used. In this way, it is necessary to improve the part that directly contacts the liquid (ie, the front-end steel needle), transform the front-end part into a mechanical structure that can automatically dismount the disposable TIp head, and need to be embedded with high speed (response speed <3ms), very low internal Miniature electromagnetic medium isolation valve with volume and "zero" dead space. With the continuous innovation of diagnostic methodologies, the amount of sample added jumped from the "microliter" level to the "nanoliter" level, how to meet such high precision requirements? We can consider to achieve this by embedding a micro-fluid sensor on the front-end structure and supplementing it with a closed-loop peripheral control circuit.

For Iphone:
For Iphone8/X/XR/XS Max
Compabile Models:
For Samsung:
For Galaxy S6, For Galaxy S6 Edge, For Galaxy S6 Edge+,
For Galaxy S6 Active, For Galaxy S6 Duos, For Galaxy Note Edge,
For Galaxy S7, For Galaxy S7 Edge, For Galaxy Note 5
For Galaxy S8, For Galaxy S8 Plus, For Galaxy Note 8
For Galaxy S9,For Galaxy S9 Plus
For Sony:
For Xperia Z4V, For Xperia Z3V
For Google:
For Nexus 4, For Nexus 5, For Nexus 6, For Nexus 7
For MOTORALA:
For Moto Droid Turbo, For Moto Droid Turbo 2, For Moto Droid 5
For NOKIA:
For Lumia 920, For Lumia 928, For Nokia Lumia 93, For Lumia 950, For Lumia 950 XL, For Lumia 1020, For Nokia Lumia 1050, For Nokia Lumia 822, For Nokia Lumia 735
For HTC:
For HTC ONE MAX T6, For HTC Incredible 4G, For HTC ONE mini 2, For HTC Droid DNA
For LG:
For LG Nexus 4, For LG Nexus 5, For LG G Pro, For LG D1L, For LG LTE2
For Others:
For YotaPhone 2, For Elephone P9000
Guangzhou HangDeng Tech Co. Ltd , https://www.hangdengtech.com