At present, LED has been applied to the interior and exterior of automobiles, especially in automotive interior lighting. The application of color LEDs is very mature, such as for instrument panels, backlight switches, car reading lights or head-up display systems, or in the car. With the Color-on-Demand feature, automakers can differentiate themselves from other competitors by using their own unique color, or use colors to differentiate between different series.

The history of LED car lights

The development of LED automotive lights is directly related to the development of LED light sources. The phenomenon of semiconductor electroluminescence was discovered in 1907. Due to the weak light, mass production is difficult and progress is slow. In 1968, Monsanto Company of the United States launched a red LED with a GaAsp/GaAs structure with a light intensity exceeding 20mcd, which was used as a breakthrough point and greatly accelerated the development of LED. Then, red, yellow and green LEDs with a light intensity of 1000mcd were successively developed, and preliminary applications were obtained on the signal indications of instruments and telecommunications, forming an early application market for LEDs. However, due to its performance indicators such as light intensity and light attenuation, it has not been widely used in automotive lamps. Until 1990, HP and Toshiba of the United States introduced red and yellow high-brightness LEDs with an InGaAlP/GaAs structure with a light intensity of more than 1000mcd and 1993, Japan's Nichia Corporation invented InGaN/Al2O3 blue and green high-brightness LEDs. And mass production paves the way for LED lighting of automotive light sources.

In 1985, LED car lights first appeared on passenger cars. In 1986, the use of LED high-position brake lights on Nissan 300zx cars marked the beginning of the era of LED car lamps. Internationally renowned automobile brands such as BMW, Cadillac, Buick, Volkswagen, Ford, Mercedes-Benz, Toyota, Mitsubishi, Mazda and Skoda have successively launched LED automotive lamps.
LED car lights are growing at a double-digit rate every year. In 2005, the output value reached 546 million US dollars, accounting for 14% of the world's LED applications. China first used LED high-position brake lights on the Shanghai Volkswagen Santana 2000 in 2000. China's LED car lamps are growing at an annual rate of 70%-80%, and the output value in 2006 exceeded 100 million yuan.

Seven advantages of LED lights

LEDs have significant advantages over incandescent lamps. First, the long life, usually up to tens of thousands or even 100,000 hours. Some people think that if the future car lighting uses LED, the entire car life is not required to replace the lamp; Second, it is very energy-saving, at least half of the energy saving of incandescent lamps of the same brightness; Third, the light quality is high, basically no radiation, belonging to "green" "Light source; Fourth, the LED structure is simple, the internal support structure, surrounded by transparent epoxy resin seal, good seismic performance; five, no need for hot start time, fast response speed (nanosecond), suitable for fast moving speed The object is used; Sixth, the applicable voltage is between 6-12 volts, which can be applied to the car completely; 7. The LED occupies a small volume, and the designer can change the lamp mode at will, so that the car shape is diversified. Automotive manufacturers favor LEDs, which are entirely determined by the advantages of LEDs themselves.

LED car lights in the future of the automotive industry

Automotive exterior applications are also constantly evolving. Brake lights, taillights, turn signals, reversing lights, high-position brake lights, etc. have already been applied to LEDs. Among them, brake lights, taillights and high-position brake lights are widely used. As a vehicle headlamp illumination, due to the need for high-power LEDs, it is subject to technology and LED cost-effectiveness, especially in the fields of optics, electronic control, and thermal management. It takes three to five years for the industry to become popular. It is also only available on some luxury high-end models. In addition to the taillights and high-position brake lights that are commonly used in the current application, LEDs will be applied on a large scale in future turning lights and reversing lights. In 2010, the market size of domestic LED automotive lamps may exceed 1 billion yuan, and an annual output value of 3 billion yuan may be formed within 5 years. According to iSuppli's "2010 LED Special Report" released in 2009, it is estimated that by 2013, about 95% of new cars in the world will use LEDs in one or more taillights.

At present, the sales of LED automotive lighting application market is about 10% annual growth rate, but the proportion of domestic LED automotive lamps is not high. The models with relatively large LED usage are concentrated in the mid-to-high-end auto companies, and these auto companies generally have restrictions on the LED brand, and domestic LED companies are more difficult to enter their supply chain. In addition, compared with international famous brands, domestic LEDs may have more problems in terms of life and uniformity of sorting. At the same time, the market regulation of auto lamps itself is strict, the threshold is relatively high, and automobiles are sold as luxury consumer goods. For one-to-one customers, any quality problems will cause complaints. Domestic LEDs have no chance to go through this market for a long time, and it is difficult to meet the LED standards for vehicles. Automobile lamps are very professional fields. It is necessary to do LED car lamps. Whether it is car lighting companies or LED enterprises, it is very difficult to go it alone. It is necessary for car lighting companies to fully communicate with LED companies, especially in front of LED cars. Development of the light.

According to statistics, at present, there are 20 million households with purchasing capacity in China. China is likely to become the world's third largest auto market, accounting for 6% of the global market, second only to the United States and Japan. By 2025, the size of China's auto market will reach the size of the current US auto market. China has become the fastest growing region for car sales in the world today. According to the statistics of the China Association of Automobile Manufacturers, the sales of domestic lights in 2009 reached more than 15 billion yuan, of which the proportion of LED lights in the market has increased year by year. Take Shanghai Xiaohao Lights Co., for example, in 2009, LED lights accounted for all cars. 11.7% of the sales of lamps, it is estimated that the proportion of LED lamp sales in the 2011 LED lamp will reach more than 15%, and by 2015 LED lamp sales will account for more than 30% of the total sales of lamps.

At present, there is still a big difference between the price of LED lamps and traditional lamps. For example, a medium-to-high-end car, incandescent lamp combination lamp is 120 yuan/set, and LED combination lamp needs 210 yuan/set. Therefore, the LED price has dropped drastically, the luminous efficiency has been continuously improved and the heat dissipation technology has been improved. This is the main focus of the development of LED automotive lamps in the future. Although there are still some problems to be solved, LEDs have the advantages of small size, vibration resistance, energy saving, long life and the like, and at the same time give designers a broader design space, which are the elements to increase the application of LEDs in and out of the car. With the continuous improvement of product technology and the continuous expansion of product categories, the future of automobiles will develop in the direction of safety and intelligence.
Philizon enjoys a high reputation in Grow Light and Aquarium Led Light fields throughout Europe and America, Philizon also insists on taking high technology to design the newest&best Industrial Grow Light and aquariumlight constantly as the market request. Our R&D team with more than 10 people has rich experience in appearance design, electronic structure,heat dissipation simulation analysis, optical lens design, lightcontrol system etc. Most of our hydroponics full spectrum Led Grow Lighting and marine coral reef ledaquarium lighting are private modules,we have 10 more design patent and utility model patent till now.
Our Industrial Grow Light is popular in led market, cause its elegant outlook and its high quality and competitive price.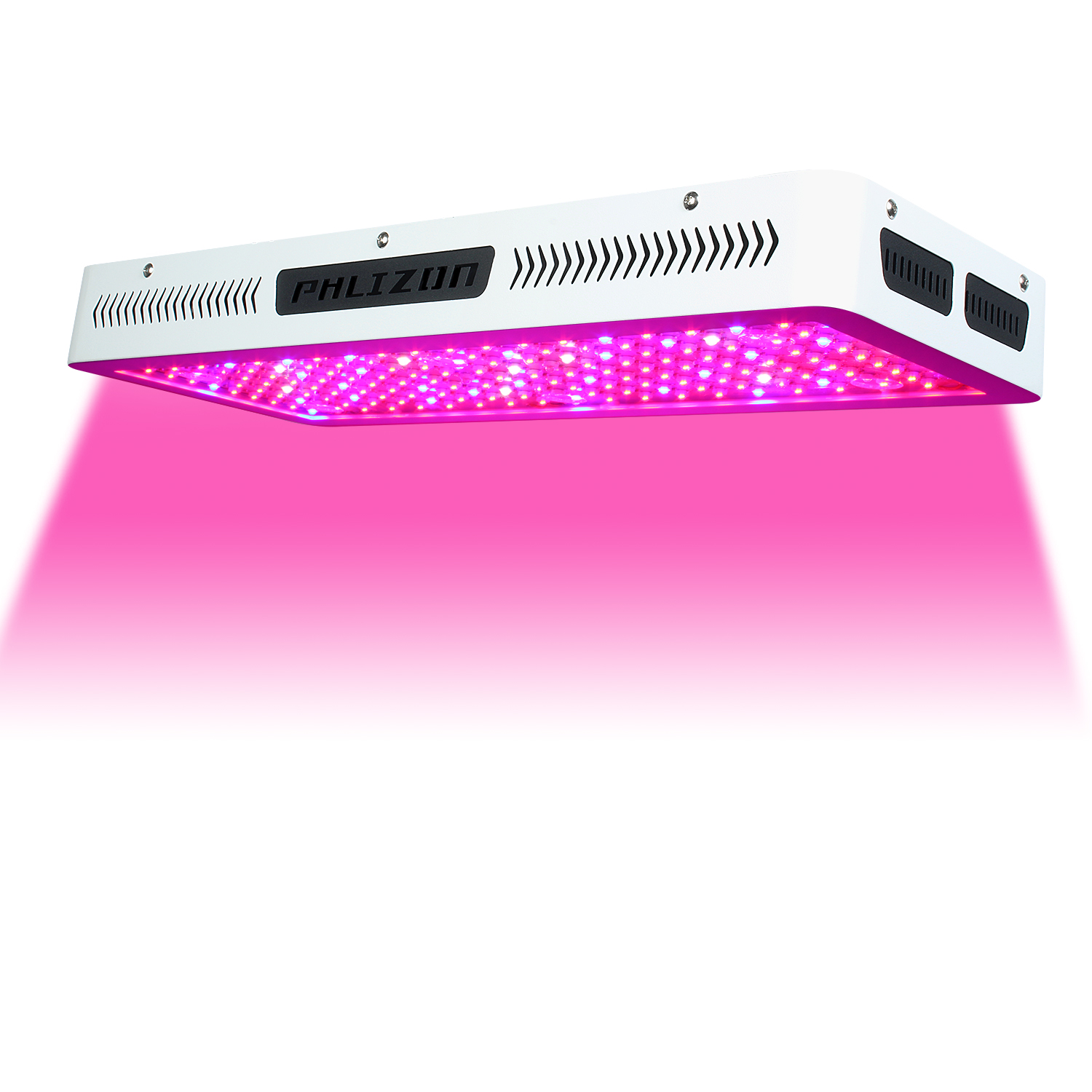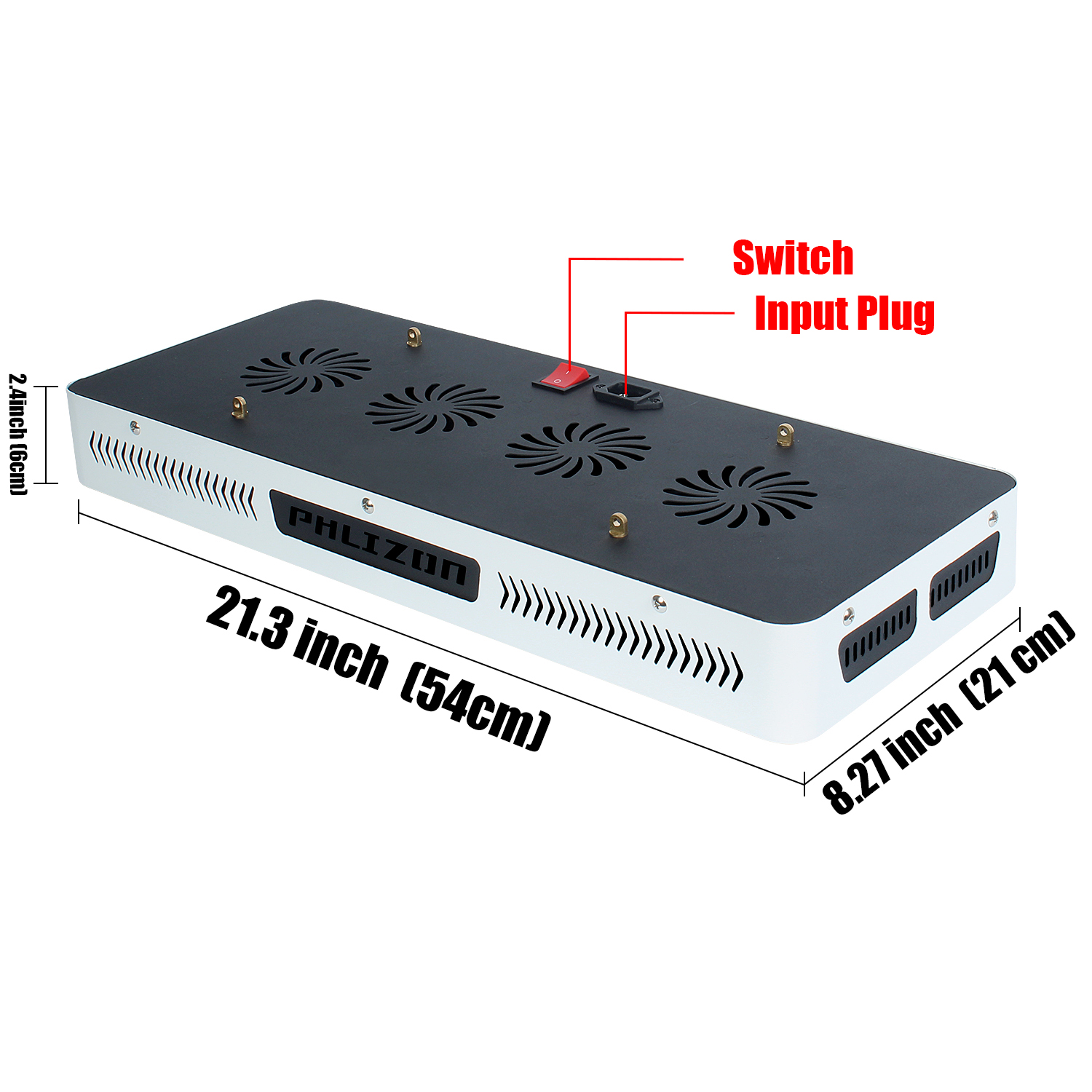 What is Full spectrum led chip ?
It is the newest trend for indoor plants. Advanced Led Grow Lights chip,not provide sigle color ,provide broad spectrum 400nm~840nm,simialr with sun light ,but most is red and blue,it is best for plant grow.This is a revolutionary step for Grow light which have previously been unable to act as the sole light source for the indoor garden.Suitable for all stages of plant growth.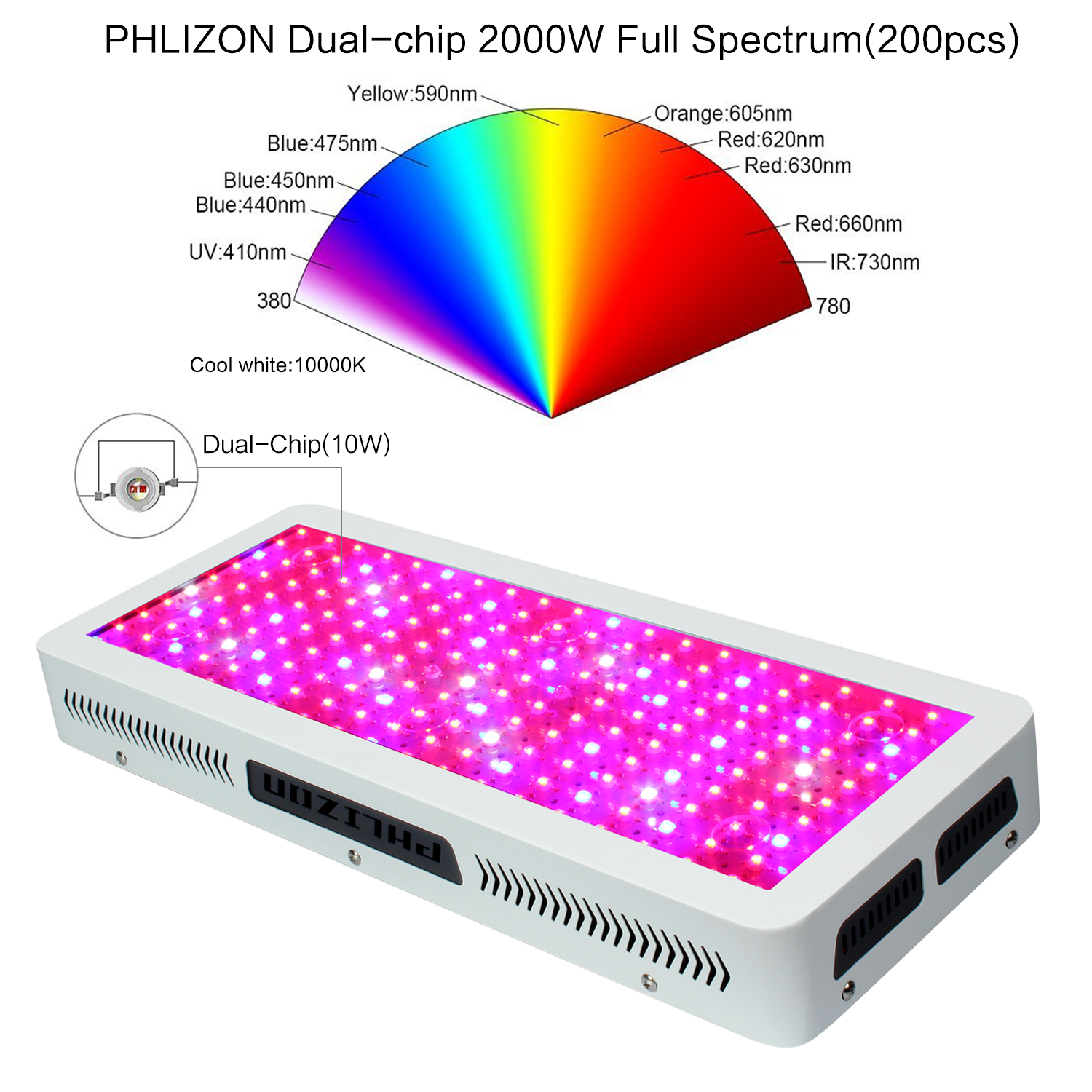 Advtanges:
Upgraded Epistar chips,High Lumen,High penetration.
Zener Diode protection Each LED,one LED Out,other LEDs still work.
High quality material,Listed Certification Wires,Heatproof Tube,Zero-Risk to catch fire.
Efficient Full spectrum Special rations of Blue,Red and White for both blooming &fruiting stages.
Adopting isolated power supply,safe&easy to maintain&long life time.
Aluminum heat-conducting plate+high quality brand fans,efficient heat dissipation.
IR LED involved,it is not as bright as other leds,But promote the yield.
Plug with listed certificate safe to use.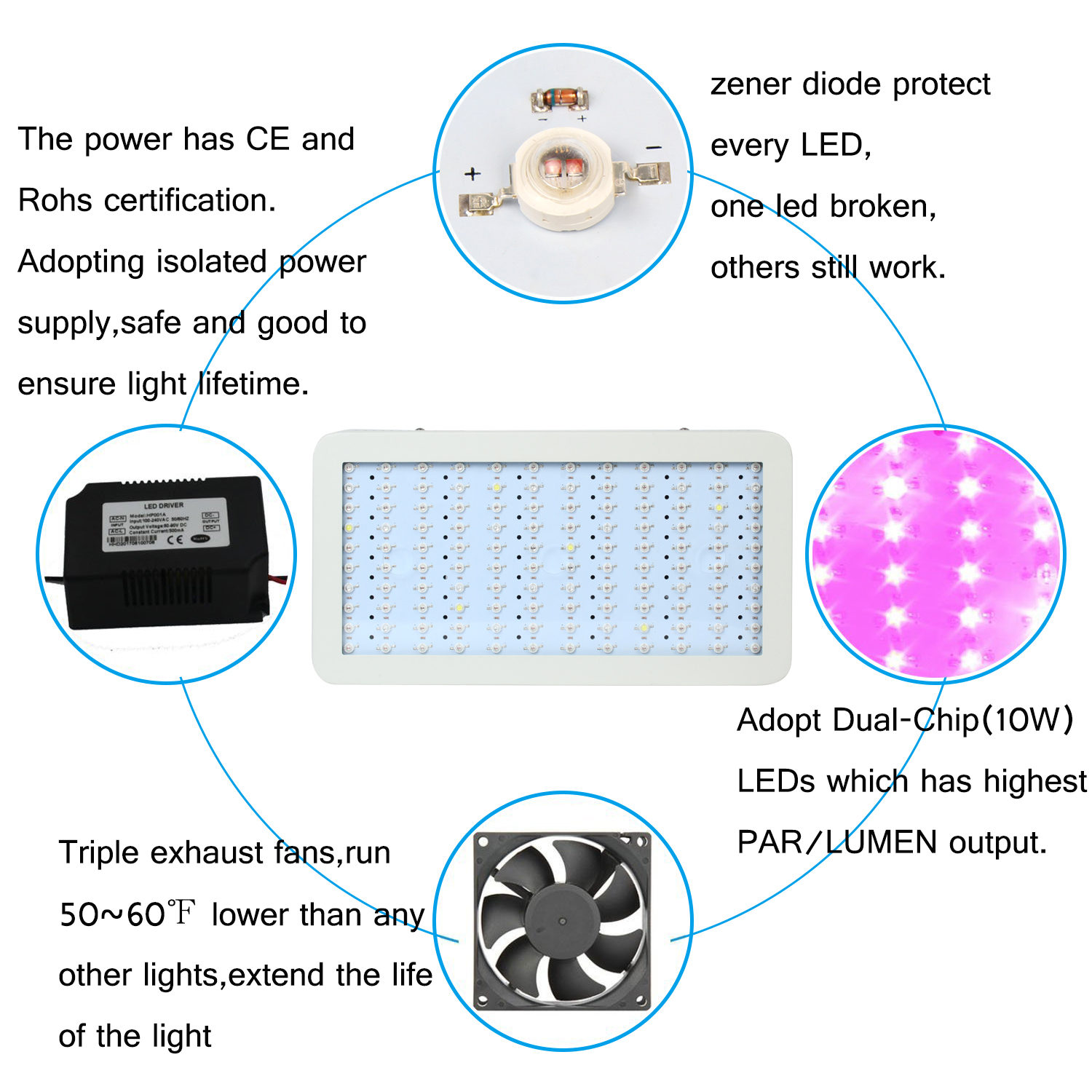 The Plug you can choose

Ageing Test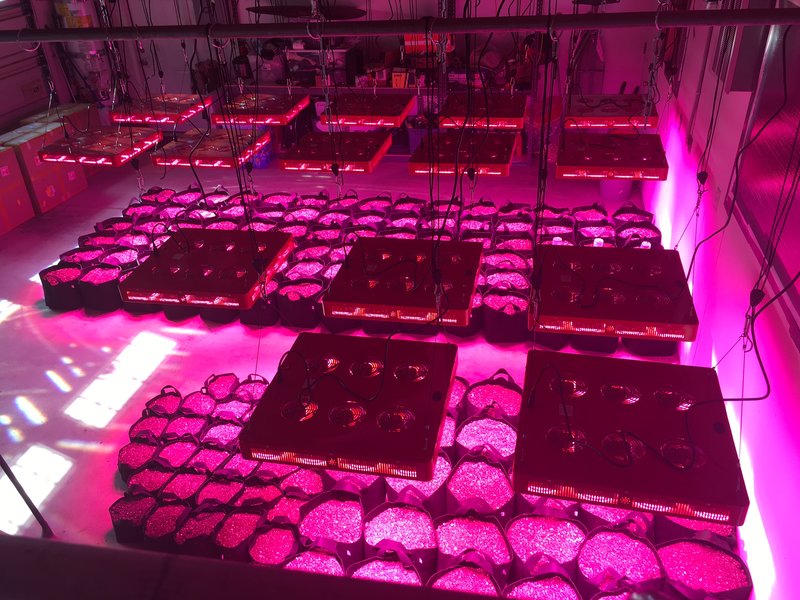 Our Quality Control systems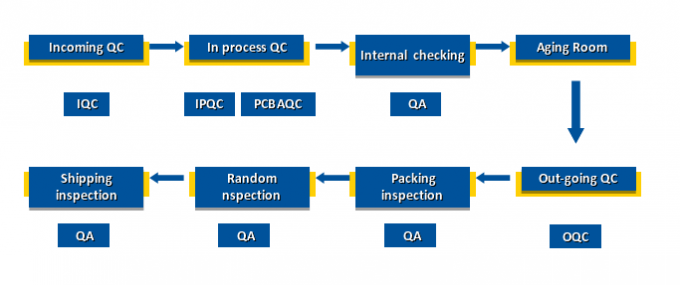 Package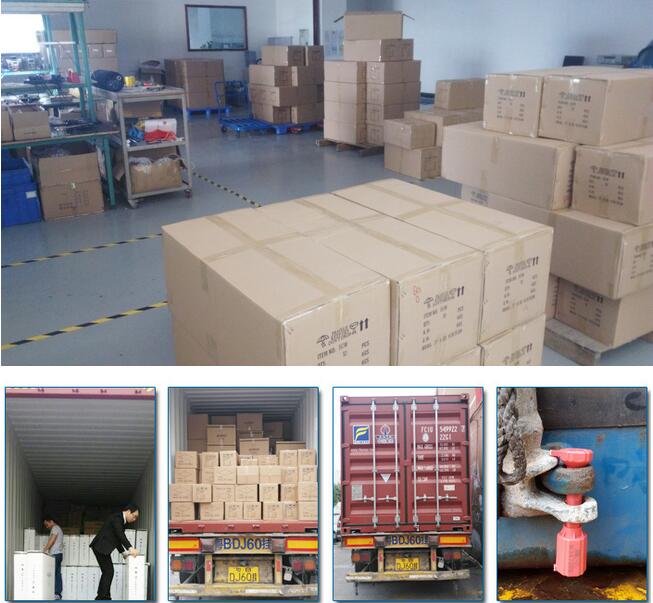 Our professional Square Grow Light are suitable for all the indoor plants and good for seeding, growth,flowering and fruiting stages of plants, increasing the harvest and Saving energy.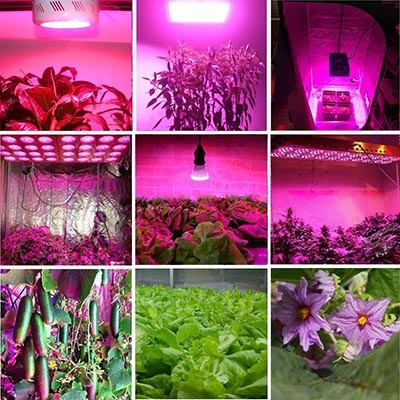 Warnings:
1.lndoor use only.
2.To avoid being damaged,do not use water or drip irrigation while using.
3.Sunshine lighting time should be 12-18 hours.
4.While irradiating the plants,the height of led grow lamp is not less than 10 inches,low height will cause the destruction of plants.
5.Highly hang the lamp will weaken the energy and affect the growth cycle of the plants, so the lamp should not be hung too high.
6.While taking care of the plants, please spray the leaves and branches 2-3 times everyday,to ensure the the plants do not wrinkle a wither, and have no phenomenon of few fruit, and hard pericarp.
Our Company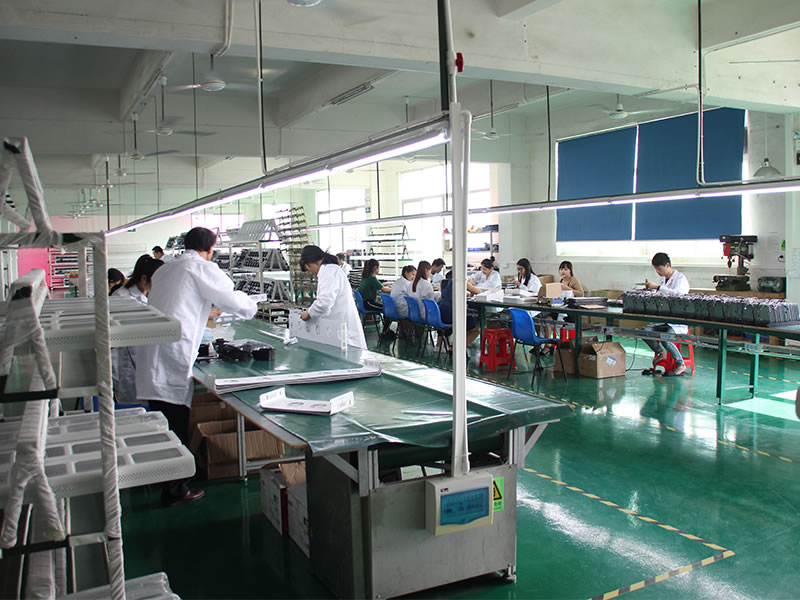 Trade Terms
Payment: T/T, L/C, Paypal, 30% deposits before production, 70% balance to be paid before deliverying(Western Union are welcome)
Sample will be delivered within 7 working days.
Discounts are offered based on order quanlityes.
MOQ:sample order are acceptable
Delivery ways:DHL,UPS,FedEx,TNT, door to door,by sea,by air,etc.
Philizon Industrial Grow Light are perfect for green house applications and much more!
Led Commercial Grow Light,Led Grow Lights,Flower Plant Led Grow Lights,Fruits Plants LED Grow Light
Shenzhen Phlizon Technology Co.,Ltd. , http://www.philizon.com