At the opening ceremony of the 2010 Shanghai World Expo, the pyrotechnic lighting performance illuminated the two sides of the Pujiang River. 6,000 LED lights ran down the river and formed a spectacular and spectacular interpretation of the fireworks in the air. Numerous LED balls perform outdoor lighting performances in a huge water space area of ​​3.4 kilometers long and 400 meters wide.

These LED luminous balls are from LDL-E-ROY-001, a special product of Zhenmingli Group. The diameter of the product is 50cm. It consists of 48 high-brightness red, orange and yellow LEDs, which can change color sequentially, beautiful and elegant, and durable. . The wireless emission controller controls the opening and closing of the luminous ball, and the waterproof level reaches IP67, which is safe and reliable, and consumes less power. A large-capacity dry battery can be used for more than 4 hours.

According to reports, the organizers of the Expo have already salvage the LED luminous balls drifting in the Huangpu River overnight, and after determining the proportion of reservations, donations and auctions, they will select the appropriate institutions to start the auction process and continue to create beautiful scenery for the opening ceremony of the Shanghai World Expo. Expo organizers create greater product value.

Our HQQNUO iPhone Battery Replacement clarified to different models and series,models are Iphone 5 Battery Replacement, IPhone 5C Battery Replacement, IPhone 5S Battery Replacement, IPhone SE Battery Replacement, IPhone 6 Battery Replacement, Iphone 6 Plus Battery Replacement, Iphone 6S Battery Replacement,IPhone 6S Plus Battery Replacement, Iphone 7 Battery Replacement,Iphone 7 Plus Battery Replacement, IPhone 8 Battery Replacement, IPhone 8 Plus Battery Replacement to IPhone X Battery Replacement series(X,XMAS, XR)
With full capacity polymer lithium battery and 100% pure cobalt cell which life span
Up to 800 cycles,the battery for iphone goes through all the test from material to production,from cell high temperature aging test,cycle test of protection plate to end products`
resistance, current and voltage test.
Our IPhone Battery replacement adopts fully automated high-tech, the daily production of batteries reaches 12,000 pieces, each battery has passed dozens of strict tests, the defect rate is less than 3%.
The iphone Cell Phone Battery has multiple protection functions, which can effectively protect the battery, and will automatically disconnect when it is fully charged.Multiple protection functions include temperature protection, circuit protection, Reste protection, input voltage protection, hardware over-current protection, output over-current protection, input anti-reverse protection, battery over-pressure protection.
Iphone Battery Replacement takes five core technologies: capacity upgrade /IC upgrade/fuse upgrade/dual layer upgrade/path upgrade.As a whole, it is constructed into high-density polymer core , fine PCBA circuit board and intelligent processor to maximize the conversion efficiency.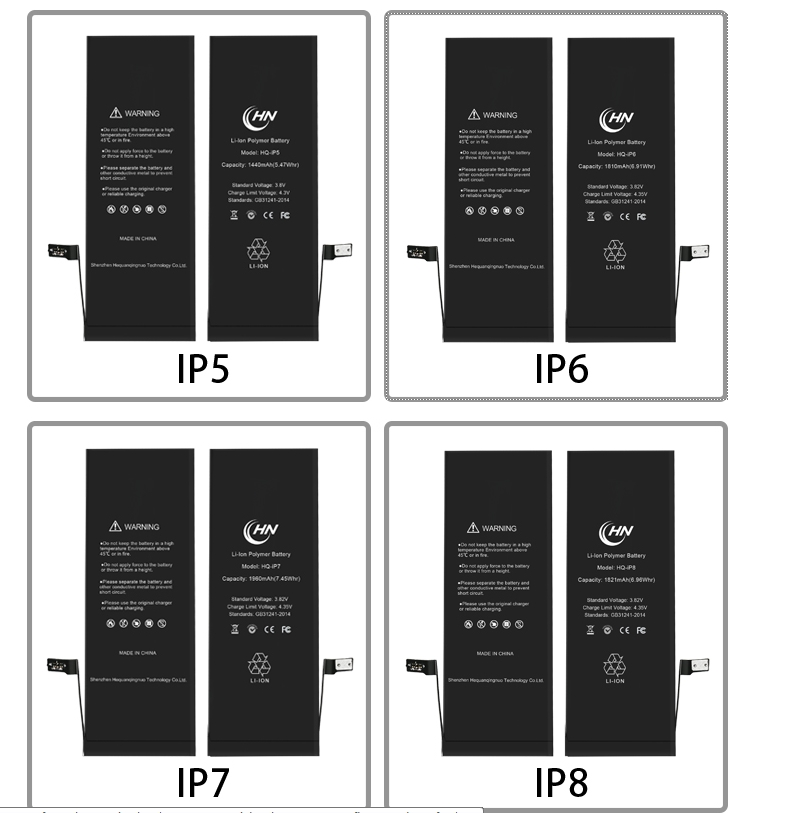 Iphone Battery Replacement,Iphone 6 Battery Replacement,Iphone 6S Battery Replacement,Apple Battery Replacement
Shenzhen Hequanqingnuo Electronic Technology Co., Ltd. , http://www.hqqnbattery.com