Under the influence of many factors such as government subsidies, product price reductions, rising environmental awareness and high electricity prices, and Japan's inability to replace light sources with light-emitting diodes (LEDs), Japan's LED bulb market has achieved great success; Won the favor of European and American consumers, is expected to replace the lighting market in 2014 will exceed the size of LED lighting.

According to Lin Zhixun, head of the IEK Energy and Technology Research Group at the Industrial Technology Research Institute, the global lighting market has a stable structure and non-residential lighting remains the main market.

Following Japan's inauguration of LED's inability to replace light sources and the popularity of LED bulbs among European and American consumers, coupled with component cost reduction and maturity of module technology, it is estimated that the scale of replacing the lighting market in 2014 will surpass LED lamps. Another LED lighting application - LED lamps, because they do not meet the cost-effective consumer demand and L by the government policy, Industrial Development Research Institute of Industrial Economics and Trends (IEK) energy and technology research group Lin Zhixun said that in the LED component costs The reduction and module technologies have matured. It is expected that the scale of replacing the lighting market will surpass LED lamps in 2014, and commercial and industrial lighting will be the focus of LED lighting development.

According to IEK's estimation, in 2010, the sales volume of LED bulbs reached 20 million, and the sales proportion reached approximately 22%. In 2010, the price of LED bulbs has dropped to 1,770 yen. Lin Zhixun pointed out that the growth rate of indoor lighting, street lighting, residential lighting, off-grid lighting, and display lighting is as high as 40%, but it still belongs to the introduction period or early adoption stage, and end-consumers' requirements on cost performance and government policies affect the industrial outlook, such as the terminal. Consumers have more stringent requirements for functional lighting such as low lumen output requirements, energy saving, and color requirements, as well as the investment amount for LED street lamps.

Nowadays, people in North America and Europe have high awareness of energy conservation, and at a relatively high electricity price, LED lighting has continued to be introduced into construction and commercial applications, while Japan, North America, Europe, and China have become major application markets. IEK estimates that the global LED lighting market will see an output value of US$21.2 billion in 2015, with a market penetration rate of 15%. Lin Zhixun pointed out that LED alternative light sources and lamps will be the next two mainstream markets. Alternative lighting sources will focus on standardization, low cost, and brands. Lighting will focus on diversification, emphasizing design, popularity, functionality, and accessibility, and the exclusive competitive industry. The trend is gradually emerging, access and brand will highlight the competitive advantage for manufacturers, and emerging industries are unlikely to shake up the status of leading manufacturers.

The demand for energy-saving products inspires the growth of the LED market. In 2010, the global LED lighting market reached US$4.98 billion, which represents a 46% increase compared with 2009. Among them, the replacement of the light source market has grown by 580% to US$1.08 billion. In 2015, the global lighting market output value will reach US$137.2 billion. Emerging countries will continue to be the main driving force for market growth.

The face of the LED industry strife, Lin Zhixun analysis, with the increasing number of competitors, and their own strengths, will produce a strong dragon difficult to suppress the situation. The future will be divided into global companies, such as Philips, OSRAM, GE, etc., with complete product lines, systematic products, vertical integration, global operations and brand advantages; regional leadership companies, such as Panasonic, Acuity Brands, Siteco, etc., focus on the regional market, meet regional needs, master access, and have the advantage of localization; while many small and medium-sized enterprises have niche products and markets to meet the needs of the region or differentiating, focusing on Original equipment manufacturers (OEMs) can provide relatively low costs.


UL Metal Case AC100-347V Led Driver

Our Constant Current LED Lighting Power Supply range offers currents from 100mA to 1300mA; while the Constant Voltage LED Lighting Power Supply range starts at 12V going through to 48V.
Both types of LED lighting power supply offer high efficiencies, PFC, are available with Class P Input; IP ratings against dust and moisture from IP20 through to IP67 and protection for short circuit, over voltage, overload and over temperature conditions. With additional options such adjustable outputs and PWM, 1-10V, Resistive or triac dimming functions.
Only Iron or Aluminum Casing,specially for Canada market for 347V, pass the CUL,FCC certification. used it for led panel light and troffer light.Industrial electricity can pay attention to waterproof and not waterproof, the product quality requirements are very, at least 5 years warranty.We have skilled engineers to answer all your questions and enquiries and provide all-round solutions basis on your project(s) and provide technical supporting.
Parameter:
Input voltage: 100-347V
output voltage: 25-40vdc
current: 100mA-1100mA.
Power factor: >0.9
Dimming:0-10V / PWM / RX / DALI.
>=50000hours, 5 years warranty.
certificate: UL CE FCC TUV SAA ect.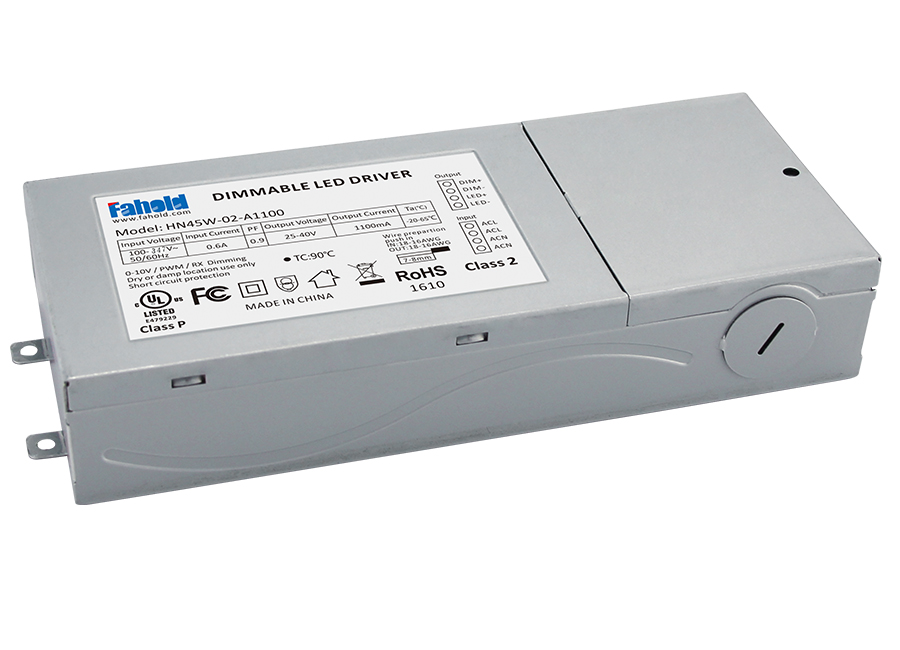 What's the benefits of Fahold driver?

Standard Linear Lighting

Cost-effective light power solution for industry,commercial and other applications

Good quality of light power with high Efficiency output to meet different requirements

Easy to order and install,requiring less time,reducing packaging waste and complexity

Flexible solution
FAQ:
Question 1:Are you a factory or a trading company?
Answer: We are a factory.
Question 2: Payment term?
Answer: 30% TT deposit + 70% TT before shipment,50% TT deposit + 50% LC balance, Flexible payment
can be negotiated.
Question 3: What's the main business of Fahold?
Answer: Fahold focused on LED controllers and dimmers from 2010. We have 28 engineers who dedicated themselves to researching and developing LED controlling and dimming system.
Question 4: What Fahold will do if we have problems after receiving your products?
Answer: Our products have been strictly inspected before shipping. Once you receive the products you are not satisfied, please feel free to contact us in time, we will do our best to solve any of your problems with our good after-sale service.
UL Metal Case AC100-347V Led Driver
Ca Industrial Led Driver,Electric Wires Or Cables,High Voltage Industrial Led Driver
ShenZhen Fahold Electronic Limited , http://www.fahold.com