On August 17th, Guangzhou Ji'an Chamber of Commerce in Jiangxi went to Jiangmen China (Jiangmen) International Green Light Expo Exhibition Center (hereinafter referred to as "Guangbohui") to visit and inspect the development status of Zhongjiang Lighting Industry Business Circle.
Members have visited the Jiangmen High-tech Zone Industrial Park, the National Semiconductor Laboratory, the Zhongshan Guzhen Lighting Culture Museum, and the Guangbohui Project Construction Site. The high-tech zone industrial park is divided into three functional zones: High-tech Industrial Park, Lingang Industrial Park and Administrative Business Service Center. The total planned area is 47.1 square kilometers. The current built area is over 12 square kilometers. The National Semiconductor Laboratory is the same in Guangdong Province. The first national key testing laboratory of the professional category will study relevant testing standards and technologies, and carry out related product testing. The operation of the laboratory will provide technical support and guarantee for Jiangmen, Guangdong and even the entire LED industry.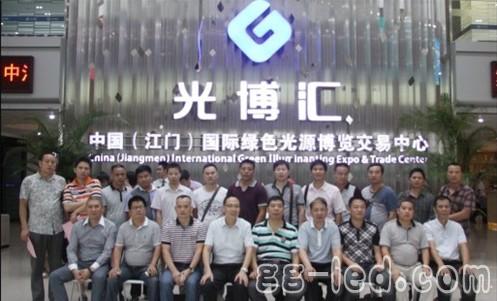 Chairman of the Lighting and Sound Association Dai Xiaofeng (fifth from left) Guo Xiu, Managing Director of Guangbohui (fourth from left)
Guo Xiu, Managing Director of Guangbohui, explained and analyzed the planning, advantages and engineering progress of Guangbohui Project and the status quo of Zhongjiang Lighting Industry Business Circle. The overall workload of the first phase of Guangbohui has completed the underground construction and will be capped at the end of this year. The interior renovation will begin later and is expected to open in June next year. After the completion, Guangbohui will provide a professional platform for the professional stage lighting market, bringing these enterprises together to become bigger and stronger professional lighting industry, and let the stage lighting enter a broader field.
During the inspection process, members of the Jiangxi Ji'an Chamber of Commerce in Guangzhou have gained in-depth understanding and understanding of the status quo of the Guangbohui project and the Zhongjiang lighting industry business circle, providing new opportunities for the development of the industry and the future trend of the professional lighting market. The idea has also further promoted the development of the Zhongjiang lighting industry business circle.
(This article is submitted by Guangbohui)

Lifepo4 Cells,Li-Ion Battery,Deep Cycle Lifepo4 Battery,Rechargeable Lifepo4 Battery
Zhejiang Xinghai Energy Technology Co.,Ltd , https://www.headwayli-battery.com